Welcome back Gamers! as you know it is New Year, the year 2023. So let's start this year with the list of Top 10 Frustrating Games That Will Make You Rage Quit.
If you think that temple run or Granny was frustrating then you have gone through nothing yet.
Table of Contents – Top 10 Frustrating Games
10. Geometry Dash
Basic Story
Developer Topala was inspired by "The Impossible Game" and he took about four months to create the game and publish it on the App Store and Google Play Store. In the beta version, the game was called Geometry Jump but was later changed to Geometry Dash.
Why So frustrating?
Well, probably the fact that you feel the need to complete a level, and that thought of "Oh, I could do better with just one more attempt," just repeats over and over.
Geometry Dash seems easy to master at first but will get a lot more challenging as you explore user-made levels with the Demon difficulty rating. They typically will require lots of patience and several skills to beat.
9. Dead Cells
Basic Story
The Prisoner awakens in the depths of the island's prison suffering from amnesia. A soldier encounters that Prisoner and mentions that they can no longer die.
The Prisoner then tries to escape the prison, but their head is forced back to the depths as soon as his body is destroyed.
Why So frustrating?
Dead Cells game is considered more difficult because of their unforgiving nature. In Dead Cells, once a player dies, they lose their cells and return back to the start.
8. The Binding of Isaac: Rebirth
Basic Story
The game's title and plot are inspired by the Biblical story of the Binding of Isaac. In the game, Isaac's mother receives a message from God demanding the life of her son as proof of her faith, and Isaac, scared after learning about this and ran for his life into the monster-filled basement of their home where he must fight to survive.
Why So frustrating?
You'll unlock more levels that will be harder than during your first runs. Difficulty also depends on what character you're playing, some are more difficult than others. But in the end, you'll be rewarded with item unlocks which may give you an amazing synergy in your future runs.
7. Super Meat Boy
Basic Story
Super Meat Boy is a platformer where you play as an animated cube of meat who's trying to save his girlfriend (who happens to be made of bandages) from an evil fetus in a jar wearing a tux. Our meaty hero will leap from walls, through crumbling caves, buzz saws and pools of old needles finally to find his love.
Why So frustrating?
The time it takes for Meat Boy to die and respawn is almost instantaneous. The player never waits to get back into the game, the pace never drops, and the player doesn't even have time to think about dying before being placed right back where he left off. This same idea was applied to the level progression.
6. Pogostuck
Basic Story
Not has an exact story but you need to climb a surreal mountain on a pogo stick and make friends along the way. You can rage alone or rage with your friends as it is a short and sweet yet very challenging game about climbing a mountain on a pogo stick. Tilt the character, jump, and use momentum and 360° power boosts to reach unimaginable heights.
Why So frustrating?
Whether those are friends or foes is up to you though, as there are leader board scattered around the map tracking the best completion times. They also serve as an excellent reminder that only 2.5% of players have completed the game's first stage—so know what you're getting into with this one.
You will frustrate over yourself for making simple mistakes and getting down on the starting line and the cycle will continue for a long time.
5. Cuphead
Basic Story
Cuphead is a classic run-and-gun action game heavily focused on boss battles. Inspired by cartoons of the 1930s, the visuals and audio are painstakingly created with the same techniques of the era, i.e. traditional hand-drawn cel animation, watercolor backgrounds, and original jazz recordings.
Why So frustrating?
It's as hard because you will have to learn each boss's patterns and if forget it once and you are done for. It is not just on that but no boss is going to have the same pattern again in the game. In short, every boss will be unique, and to add more difficulty there will be phases for each boss and you will not know when it changes its phases. If you think that yes, this boss, I defeated his third phase and it was the same for the previous boss then, No. This new boss will have 5 or 6 phases which will completely surprise you.
4. Jump King
Basic Story
There is a Smoking Hot Babe at the top, and Jump King wants to reach her. To reach her, he must jump up a series of platforms. Obviously, Jump King is designed to be fairly tongue-in-cheek when it comes to its premise.
Don't judge it by the premise it is just to lure you in.
Why So frustrating?
Jump King is difficult, mostly because of the controls. It's a platformer with no aerial movement. Your only choices are jumping up, left, and right. The challenge comes from charging your jump.
Jump King is made up of one long vertical stage, and much like Getting Over It, there are no checkpoints to help you get back to where you slipped up. You might perfectly hit 10 jumps to progress up a few screens, but one mistake and you'll be face down in the dirt, possibly lower than where you started.
Don't just go in to see the hot babe and protect yourself and your PC setup because many streamers broke their PCS from the frustration.
3. NIOH 2
Basic Story
It is a historical fantasy retelling of this era in a land filled with demons. Although highly different, our reality is somewhat like the era presented. We live in a time where powerful people have the reins over our livelihoods. Our present and ultimately our future is seemingly out of our control.
Why So frustrating?
All the yokai are harder than half the bosses in the game and the NPCs do too much damage. Nioh 2 does end up making the game more frustrating than challenging in its own similarly unique style.
Like most things in Nioh, it starts out more punishing and gradually gets easier the more skills you unlock. You may get a stamina regen hit in the Dark Realm, but your Anima gauge recharges much faster, and your Yokai abilities deal more damage, etc but you will always feel that frustration from time to time.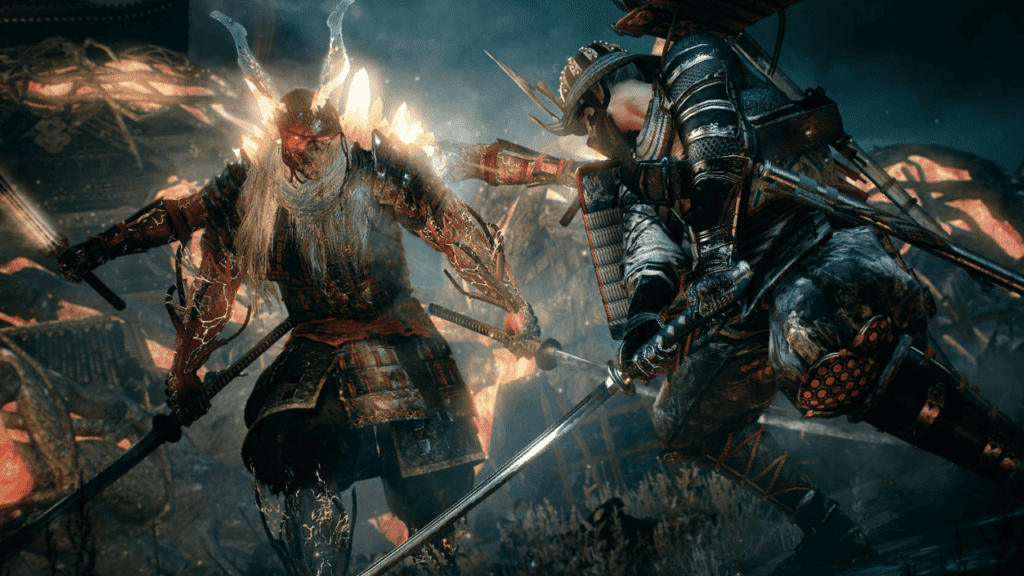 2. Dark Souls III
Basic Story
The games take place within a dark, medieval fantasy setting, where the player's character fights against knights, dragons, phantoms, demons, and other monstrous or supernatural entities.
The Dark Souls games are played in a third-person perspective and focus on exploring interconnected environments while fighting enemies with weapons and magic. Players battle bosses to progress through the story while interacting with NPCs (non-playable characters).
Why So frustrating?
The controls, like in any Souls game are made to be convoluted. One must develop a set of skills and forge neuro-pathways specifically for the game series. Enemies are also often extremely powerful, especially the bosses. The game is also vague and leaves a lot to be discovered.
The most frustrating thing about Dark Souls is the convoluted story. The gameplay you'll get used to it if you have some patience, but the story is very complicated and hard to understand.
1. Getting Over It
Basic Story
It revolves around the player-controlled character sitting in a large metal cauldron and named Diogenes in reference to the pot-dwelling philosopher. He wields a Yosemite hammer, which he can use to grip objects and move himself. The goal is to reach the top of the mountain which is made of whatever god knows from rocks to building to towers and even space.
Why So frustrating?
Getting Over It makes people angry because That game requires patience. And people get angry at anything so Getting over it can easily make people rage.
Getting Over It psychologically punishes its players for doing so. Most games allow for checkpoints, save spaces, and so forth, but Getting Over It threatens the player with their own incompetence the entire time.
Getting Over It is, at its core, a game about taking risks, trial and error, and the value of starting over. It's an experience that'll take everything out of you and build it back up from the inside.
(Bonus)
The Stanley Parable: Ultra Deluxe
Basic Story
It is a game about a man who leaves his desk one day to discover that all of his most difficult-to-animate colleagues have vanished. It follows the journey of Stanley, an office clerk whose life is largely unknown. It is not known whether he is insane or not, this can be determined via the choices you make along the way. Explore a whole new world with just one turn, click, or even just standing still. It will show you changes and endings that you might have never thought about.
Why So frustrating?
The Stanley Parable is a hard game to talk about because so much of its charm and delight comes from discovering its surprises for yourself. The office is a labyrinth of paths to choose from or stumble upon, each choice sending you further down its branching tree of hilarious stories and toward one of its countless endings.
The frustrating part is that to find all the endings you need to play through some similar parts again and again.
Alrighty then, I guess that's too many games for today. I will be back with some more frustrating games, so just be with me and we will continue to grow in this gaming world.
If you like this then leave a comment below. Mention any things on which I can improve and you can suggest some games of your choice for the other readers as well.
That's All for now. Till then…
— Peace Out —
#gamerex.fallinsports #gamerex #fallinsports
Not Interested in Video Games but in actual Sports then you can check out my other blog – FallinSports for Sports related content.
For Latest Techincal Update Checkout – TechFryk.com
Top 10 Frustrating Games, Top 10 Frustrating Games
Top 10 Frustrating Games, Top 10 Frustrating Games
Top 10 Frustrating Games, Top 10 Frustrating Games