Did you ever think about how the whole gaming scenario started? What was the beginning of this current gaming world? Well then here is the answer and this was the First Video Game Ever Made – The beginning of the Gaming World.
History of Gaming
Before the era of electronic ping pong, hungry dot eaters (Pacman), and mushrooms (Mario), people waited in line to play video games at arcades. More than fifty years ago, even before either arcades or home video games were there for people, everyone waited in line at Brookhaven National Laboratory to play the "Tennis for Two" Video game. It is an electronic tennis game that is to be said as the beginning of the modern video game.
Tennis for Two was first introduced on October 18, 1958. Two people played the electronic tennis game with separate controllers that were connected to an analog computer that used an oscilloscope for a screen.
The game's creator, William Higinbotham was a nuclear physicist for nuclear nonproliferation as the first chairman of the Federation of American Scientists.
Sir Higinbotham realized how static and non-interactive most of the science exhibits were at that time and as a head of Brookhaven Lab's Instrumentation Division, he wanted to change that.
While reflecting on his creation, Higinbotham wrote that "it might liven up the place to have a game that people could play, and which would convey the message that our scientific endeavors have relevance for society."
First Video Game Ever Created
People playing Tennis for Two saw a two-dimensional side view of a tennis court on the oscilloscope screen. The ball, a brightly lit moving dot left trails as it bounced to alternating sides of the net. Players served and played using controllers with buttons and rotating dials to control the angle of an invisible tennis racquet.
Hundreds of visitors lined up for a chance to play this electronic tennis game and Higinbotham could not have dreamed that his game would become a starting point in the formation of an entire industry in less than fifty years.
In 1982, Creative Computing magazine picked up on the idea that Tennis for Two might be the first video game ever and they published a story on the game in that year's October issue. It credited Higinbotham as the inventor of the video game until it heard from someone who could document an earlier game.
First Ever Game Creator (Creator of Tennis for Two)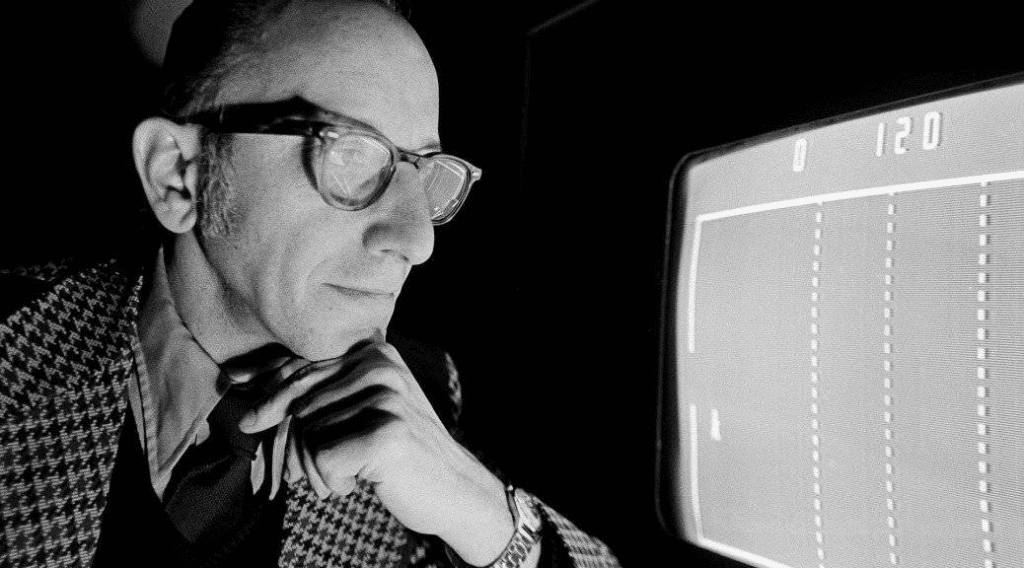 Dr. William Higinbotham was a nuclear physicist who worked on the first nuclear bomb and served as the first chairman of FAS.
During his senior year at Williams College, he used an oscilloscope to produce a system to display the audio modulation of a radio station's high-frequency output. Then as a graduate student in Cornell's physics department, he worked as a general-purpose technician learning about the new and rapidly developing field of electronics.
There were few inventions prior to Tennis for two. For example, "Cathode Ray Tube Amusement Device" – by Thomas T. Goldsmith Jr. and Estle R. Mann or "Nimrod computer" by Ferranti International.
But all these were not completely electronic games. That's why many believe that 'William Higinbotham' is the Father of Video Games.
Isn't that crazy how this whole gaming world was created by a single man who was bored of doing similar kinds of projects in the science exhibition? Insane!
It's really true that boredom can bring out such amazing things that sometimes even a focused person might not be able to create.
Alrighty then, I guess that's too many games for today. I will be back with some more upcoming games, so just be with me and we will continue to grow in this gaming world.
If you like this then leave a comment below. Mention any things on which I can improve and you can suggest some games of your choice for the other readers as well.
That's All for now. Till then…
— Peace Out —
#gamerex.fallinsports #gamerex #fallinsports
Not Interested in Video Games but in actual Sports then you can check out my other blog – FallinSports for Sports related content.
For the Latest Techincal Update Checkout – TechFryk.com
First Video Game Ever Made – Beginning Of The Gaming World
First Video Game Ever Made