The Olympic Esports Series (OES) is a global virtual and simulated sports competition created by the IOC in collaboration with International Federations (IFs) and game publishers. Just freaking amazing and taking reports to another level. OOlympic Esports All Events History Winners 2023.
History
Counter-Strike, Dota, League of Legends, and Valorant have been considered too violent for an Olympic-style esports competition.
The Olympic Movement held an esports summit in October 2017, followed by an IOC Esports Forum in July 2018.
Despite this, the IOC did not consider adding esports to the Olympic Games due to the lack of an international federation and violent games.
Asian Games and Southeast Asian Games, both organized by the Olympic Council of Asia, recognize esports as medal events. With the 2022 Asian Games in 2023, it will become a medal event of the Asian Games for the first time.
The Olympic Virtual Series will take place in 2021 following the postponement of the 2020 Summer Olympics due to the COVID-19 pandemic.
Sports included in that were baseball, cycling, motorsport, rowing, and sailing – four of which would return as part of the Olympic Esports Series in 2023.
A second Olympic Virtual Series was planned for 2022 but did not take place, instead being replaced by the Olympic Esports Series.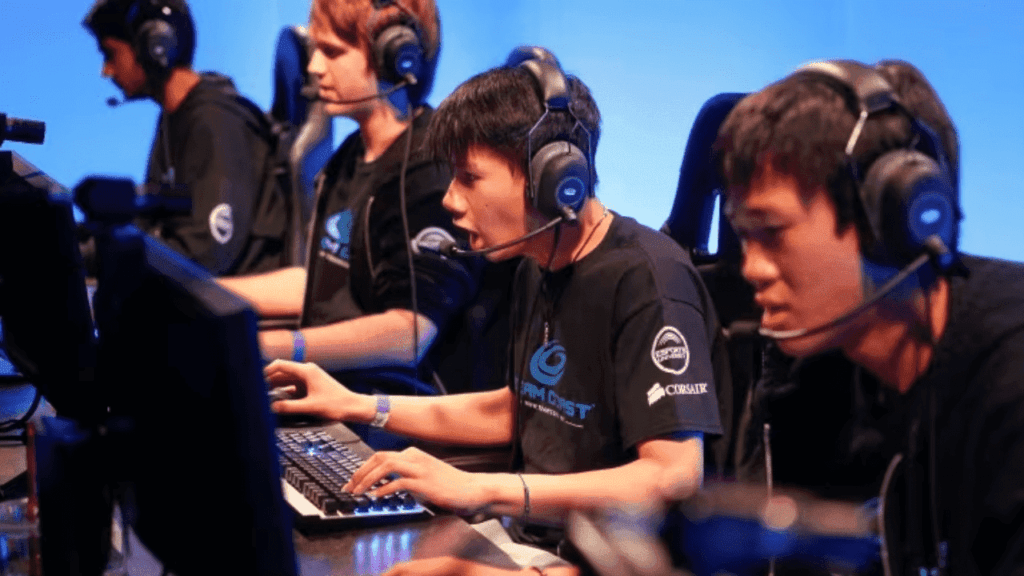 IOC announced in November 2022 that the inaugural Olympic Esports Week would take place in Singapore in June 2023.
A 10th event in shooting (Fortnite) was added on 5 May 2023, following the initial nine titles and sports.
A day earlier on 22 June, the inaugural Olympic Esports Week began in Singapore with the opening ceremony of the Olympic Esports Series finals.
In her virtual speech, Halimah Yacob – who was on a state visit to Qatar – declared the Olympic Esports Week open on behalf of the IOC President Thomas Bach.
Winners of 2023 Olympic Esports Week
| | | | |
| --- | --- | --- | --- |
| Event | Gold | Silver | Bronze |
| Archery Tic Tac Bow | Jared Montgomery United States | David Chan United States | Kyosuke Takebayashi Japan |
| Baseball WBSC eBASEBALL: POWER PROS | Shoma Mori Japan | Hiroki Horiike Japan | Wang Chia-Ming Chinese Taipei |
| Chess (chess.com) | Aleksei Sarana Serbia | Maksim Chigaev | Nguyễn Ngọc Trường Sơn Vietnam |
| Cycling Zwift | Team Fuego Martin Maertens (GER) James Barnes (RSA) Lou Bates (GBR) Marlene Bjärehed (SWE) | Team Epic Ben Hill (AUS) Michał Kamiński (POL) Jacquie Godbe (USA) Charlotte Colclough (GBR) | Team Lava Teppo Laurio (FIN) Lionel Vujasin (BEL) Alice Lethbridge (GBR) Kong Lam (HKG) |
| Dance Just Dance | Dina Amandine Morisset France | Joseph Cordero United States | Antonino Pomilia Italy |
| Motorsport Gran Turismo 7 | Kylian Drumont France | William Murdoch Great Britain | Angel Inostroza Chile |
| Sailing inshore Virtual Regatta | Tim Carpentier France | Cavan Fyans Great Britain | Francisco Melo Portugal |
| Sailing offshore Virtual Regatta | Baptiste Renaut France | Xavier Coquard France | Aurélie Martin France |
| Shooting Fortnite | Lucas Malissa Australia | Alexander Feyzjou United States | Andrej Piratov Latvia |
| Taekwondo Virtual Taekwondo | Nigel Tan Singapore | Natalie Tor Singapore | Wu Jingyu China |
| Tennis Tennis Clash | Anass Benghazi France | He Shenghao China | William Foster Great Britain |
| Motorsport Gran Turismo 7 | Kylian Drumont France | William Murdoch Great Britain | Angel Inostroza Chile |
Olympic Esports All Events History Winners 2023
–
Alrighty then, I guess that's too many Video Games for today. I will be back with some more lists of different games, so just be with me, and we will continue to grow in this gaming world.
If you like this then leave a comment below. Mention any things on which I can improve and you can suggest some games of your choice for the other readers as well.
That's All for now. Till then…
— Peace Out —
#gamerex.fallinsports #gamerex #fallinsports
Not Interested in Video Games but in actual Sports then you can check out my other blog – FallinSports for Sports related content.
For the Latest Techincal Update Checkout – TechFryk.com
Olympic Esports All Events History Winners 2023
Olympic Esports All Events History Winners 2023